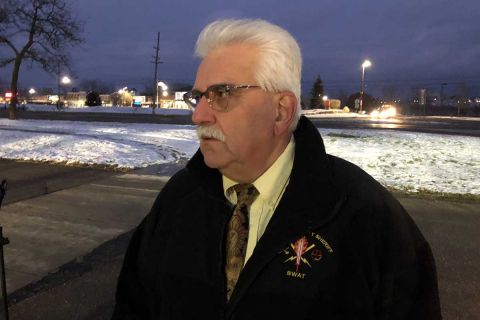 Three students dead, eight injured at Oxford High School. Second year in police custody
OXFORD – Three students died and eight people injured after another student opened fire with a semi-automatic handgun at Oxford High School on Tuesday afternoon, law enforcement officials said.
The suspected gunman, a 15-year-old sophomore who has not yet been publicly identified, is in custody after surrendering to police shortly before 1 p.m., the county deputy sheriff told reporters from Oakland, Mike McCabe.
The suspect is not speaking to the police and his parents have hired a lawyer. Authorities executed a search warrant at the family's home at 5 p.m. Police said he fired more than 15 shots.
"At this point, we think he acted on his own," McCabe said. "There is no other shooter. There is no other shooter. We don't think, at this time, that he planned this with anyone else.
The shooting follows rumors on social media that there could be a school shooting on Tuesday, preventing some students from attending, parents said. McCabe said police were aware of the rumors but investigators had not confirmed them.
The attack on the school of 1,700 students sparked a wave of support, including comments from President Joe Biden. Michigan Governor Gretchen Whitmer joined police near the school on Tuesday evening.
"I think it's every parent's worst nightmare," Whitmer said, biting back tears.
"I hope we can all seize the opportunity and put our arms around the families, affected children and school staff in this community. It is an unimaginable tragedy.
The suspect's motive is not yet known and authorities are not aware of any obvious "warning signs" leading up to the shooting, McCabe told reporters.
Investigators were interviewing other students and planning to examine school security cameras and social media accounts after the shooter invoked his right to speak to a lawyer rather than immediately answering police questions, did he declare.
"It's a very tragic situation, obviously," added McCabe.
The parents of the three students killed in the shooting – a 16-year-old man, a 14-year-old woman and a 17-year-old woman – have been informed. It is not yet known whether they were targeted by the shooter or whether they were victims of circumstances, McCabe said.
Among the eight people injured in the shooting are at least one teacher.
Two of those people were operated on Tuesday night and "we don't know their condition," McCabe said. Six others are said to be in stable condition.
Other students were evacuated to a nearby Meijer to be picked up by parents on Tuesday afternoon.
"I am shocked," said Superintendent Tim Throne.
"I really have nothing to say except that you can certainly pray for our families here in Oxford and our students," he told reporters at a press briefing around 3pm.
As the incident unfolded, some students took to social media. A shared video of students crammed into a classroom and jostling in front of a window.